Spanish

Follow us on Instagram @halewood_academy_mfl/

Our Spanish Curriculum is designed to:
To progressively develop learners' skills in languages, through regularly taught lessons. Learners progressively acquire, use and apply a growing bank of vocabulary organised around topics. All of these approaches help to equip our learners with the skills to be confident global citizens.
Staff in MFL at Halewood Academy develop, monitor and evaluate the effectiveness of Spanish within school across all year groups.
To deliver high quality learning sequenced experiences throughout the curriculum. Support staff have developed their language skills in order to further enhance the quality of learning within the department.
We aim to do this by:
Delivering structured and exciting lessons that ensure statutory requirements are met and which enable individuals to progress and achieve to the best of their ability in MFL.
Developing our students' intercultural awareness and understanding of cultural diversity throughout the world by learning about other countries and cultures where French or Spanish may be widely spoken.
Developing our students' ability to understand and communicate in a foreign language by offering a variety of language options and qualifications.
Developing students' Personal, Learning and Thinking skills through creativity and a collaborative thematic approach to learning and teaching.
Developing opportunities to broaden students' cultural, social and emotional development both inside and outside the curriculum.
Developing and encourage an understanding of core British values.
What do we expect learners to get from studying Spanish?:
Students get equipped with a breadth of knowledge and skills in all areas of the curriculum at KS3 and 4. Assessment is an integral and constructive part of the learning process and at Halewood Academy.
Students are encouraged to take responsibility for their own learning. The MFL staff aim is to ensure different groups of students make good progress, achieve well and improve outcomes.
Students will benefit from a curriculum which provides educational visits, extra-curricular activities and specific entitlements throughout the academic year.
Students will have access to high-quality resources within the curriculum, and also in terms of human resources, practical equipment, environment and teaching resources.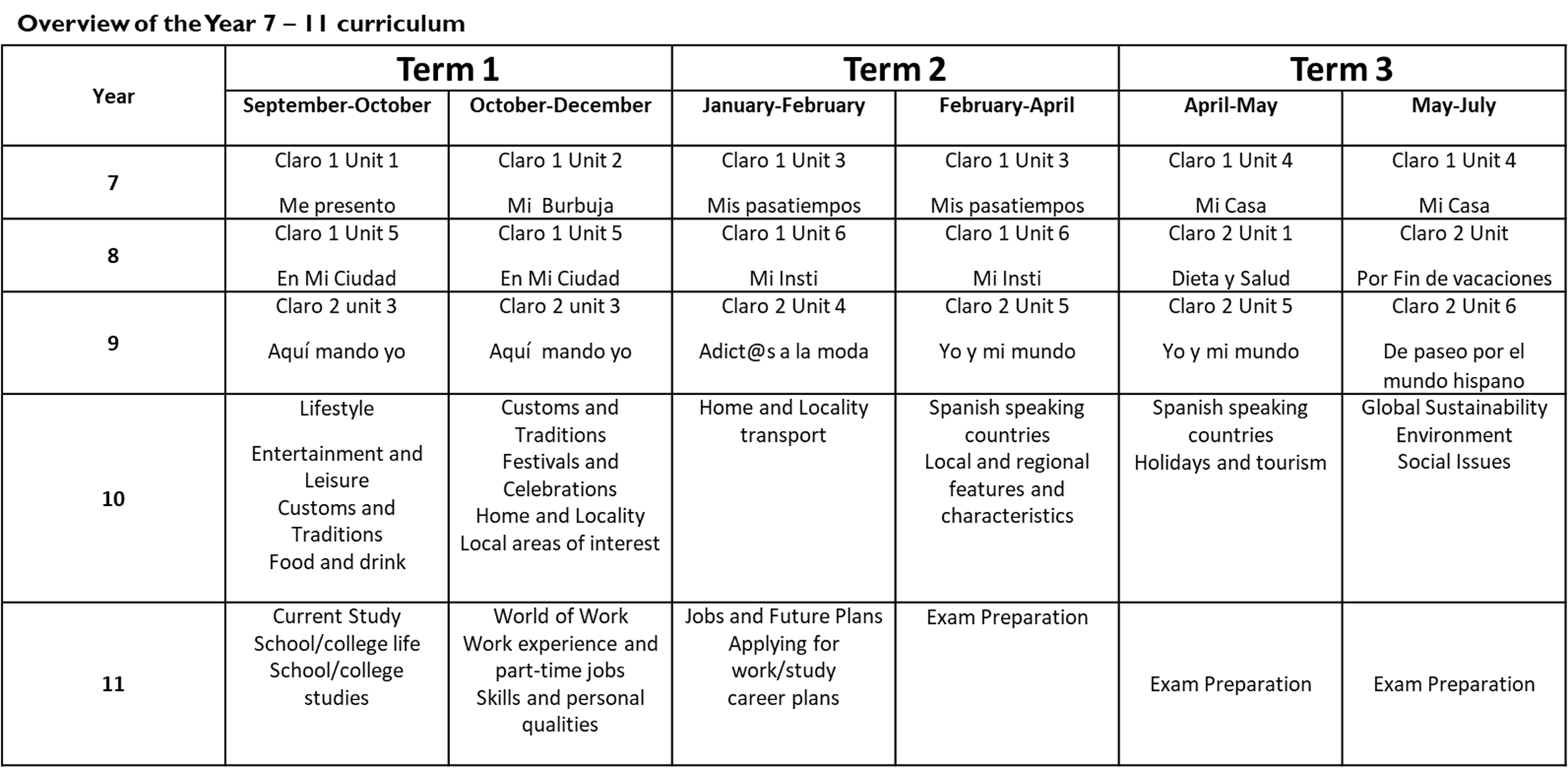 Key Stage 4:
Spanish is studied from Year 10 until Year 11
WJEC Eduqas Specification: https://www.eduqas.co.uk/media/2ryknb1s/eduqas-gcse-spanish-spec-from-2016-e-04-11-2020.pdf