GCSE Results 2020 - Information for Students, Parents & Carers
How were grades awarded?
The process of awarding GCSE grades this year has been significantly different from previous years, made even more unusual by the last-minute uncertainty around the method used to award this year's grades.
Following the cancellation of exams, schools were asked to submit Centre Assessed Grades to exam boards. The grades submitted were based on a broad range of information, including mock exams and on-going teacher assessments. CAGs are not solely the responsibility of any individual teacher: each subject followed a rigorous internal quality assurance process and the school applied strict protocols and procedures to ensure grades were fair and accurate. You can find a detailed explanation about the process of awarding Centre Assessed Grades in this letter from Ofqual or by watching this short video.
After submission, each school's CAGs were put through a statistical standardisation process by Ofqual to ensure that grades awarded this year are consistent with those awarded to other cohorts in previous years. This resulted in their 'calculated grade'. The 'official' grade received is the highest of the CAG awarded or the calculated grade.
What to do if you believe your grade is unfair
Given the unique circumstances faced this year, we politely ask that students and parents/carers do not seek to discuss the final awarded grades with their subject teachers. Should you have concerns that the grades you have received are unfair or incorrect, you can find helpful information on Page 8 of this Ofqual Student Guide.
Appealing your GCSE Grades
Individual students are not able to appeal their grades; this can only be done by the school where it feels there are reasonable grounds to do so in line with guidance from Ofqual below. We therefore ask that you speak to the school if you have concerns or questions.
Ofqual guide to appeals and malpractice or maladministration complaints
Appeals will only be considered in specific circumstances, as follows:
Students can ask their school or college to check whether it made an administrative error when submitting their centre assessment grade or position in the rank order and if it agrees it did, to submit an appeal to the exam board.
Schools can appeal if they believe something has gone wrong in processing their results – for example, if a centre believes it has made an error when submitting its information; or similarly, that an exam board made a mistake when calculating, assigning or communicating a grade. We expect that any such mistakes will be quickly found and corrected.
Dissatisfaction with your grades does not constitute grounds for appeal unless there is evidence that there has been a technical error by the centre or the exam board. The only reason it may be reviewed is if you feel the school or the exam board has not administered the process properly or if you think there has been bias or discrimination in the way they were awarded. Should you have concerns about how the CAG was determined based on malpractice or maladministration (wrongdoing), including if you have concerns about bias or discrimination, you can make a complaint to the school as set out in our Complaints Policy.
Please note the following guidance from Ofqual relating to CAGs:
You cannot challenge your school or college under the appeals process on the centre assessment grade(s) it submitted or your rank order position(s). Any appeal would have to be undertaken by someone better placed than your teachers to judge your likely grade if exams had taken place – in the unique circumstances of this summer, we do not believe there is such a person. Also, because of the role of the rank order in grading this year, such an appeal would affect other students in your cohort: if one student successfully appealed against their position in the rank order, it would have negative implications for other students who would, in turn, need to be given an opportunity to appeal.
The flowchart below provides further guidance about what you can do.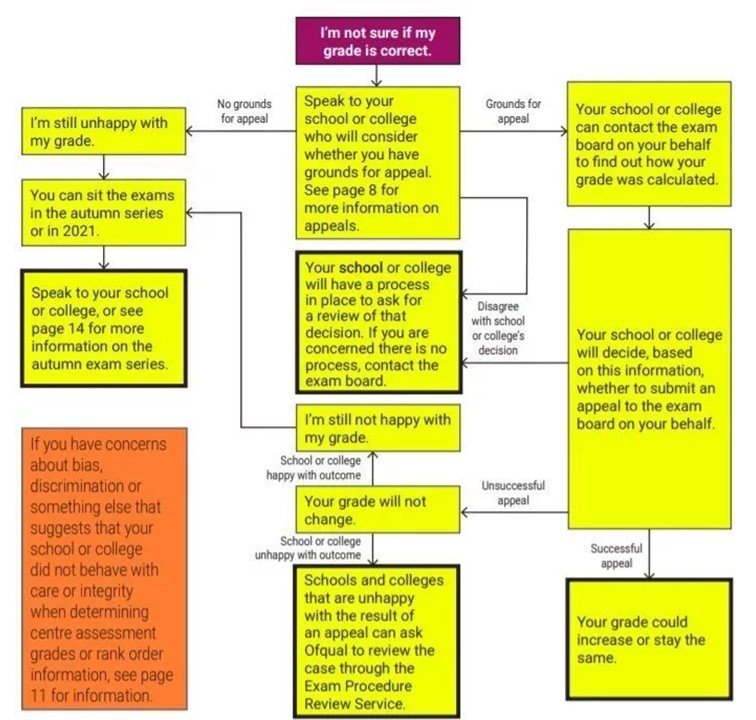 Re-sitting your GCSE Exams
Under current arrangements, students have the right to re-sit exams in the autumn term in subjects where you feel they have the potential to achieve a higher grade. The school is responsible for entering students for these exams but information about arrangements have not been fully released by the Department for Education. We will publish more information when we receive it.
If you are looking to join a college for post-16 studies, you are advised to discuss re-sitting exams with them as each college will have its own arrangements in place regarding the implications for start dates and enrolment.