RACER Day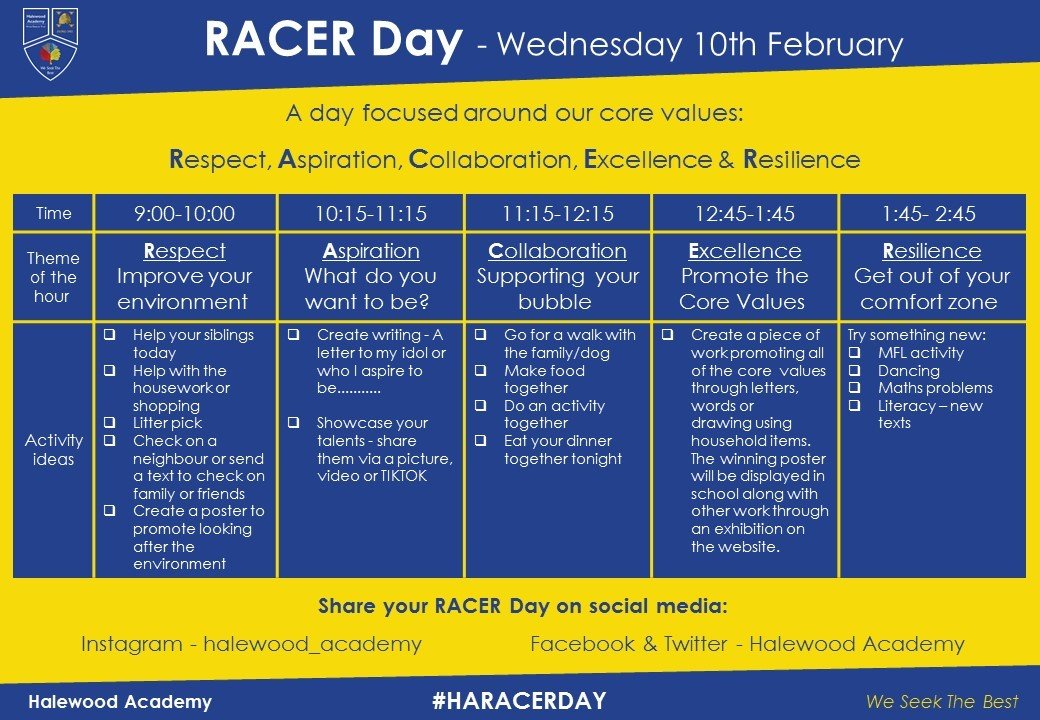 4th February 2021
Well-being and Core Value 'RACER' Day Year 7-11
Dear Parent/Carer,
On Wednesday 10th February, we will be supporting the students' mental health week. The mental, physical and wellbeing of all our students, parents/carers, staff and the community is extremely important to all of us at the Academy. We believe this day is a fantastic opportunity for all of us to focus on ourselves and each other, whilst developing skills in the Academy's Core Values: Respect, Aspiration, Collaboration, Excellence and Resilience.
Having listened to your feedback on the welfare calls we have made, it has become apparent that the five online lessons per day is taking its toll upon us all. Learning online is more challenging than learning in school and teaching is more difficult than in the classroom. As a parent/carer it is also equally as challenging as whether you are at home or at work, trying to balance supporting your child/children whilst trying to balance your own work life can be a strain.
With this in mind, we have a planned a Well-being and Core Values Wednesday. On Wednesday 10th February, we will press pause on the school timetable. The students across the school will have a bespoke timetable for the day focusing on developing their well-being and skills in the Core Value on order to promote positive mental and physical health. This will also reduce the screen time for all students, parents/carers and staff.
Each student will follow the planned day's timetable and they will select an activity to complete from each of the Core Values during each lesson of the day. There will be a selection of activities and pre-recorded sessions for students to choose from that will support creativity, imagination, provide challenge, whilst also catering for their well-being needs. All the students working from home will be able to have the same lunch and break times. We will also have challenges throughout the day for the best work produced and we will publish lots of the work from the day in an online Art Exhibition on the website.
The timetable for the Wednesday 10th February home learning is below and the critical worker and vulnerable group will have their own bespoke timetable for the day also whilst they are in school. The critical worker and vulnerable group will also have a non-uniform day that day in school. We really appreciate all the support you are giving us with remote home learning and we hope this allows you sometime to press pause, join in the range of activities and hopefully, improve your own well-being on the day.
Please look after yourselves and your families. Once again, thank you for your continued support.
Yours faithfully,
Miss J Hayden
Assistant Principal
Miss G Walsh
Interim Assistant Principal
Miss M. Catterall
Assistant Principal