Extra Curricular
Students are supported in all faculties across school.  It is important that students engage fully with opportunities to extend their learning.  Please find below our current After School Activities timetable.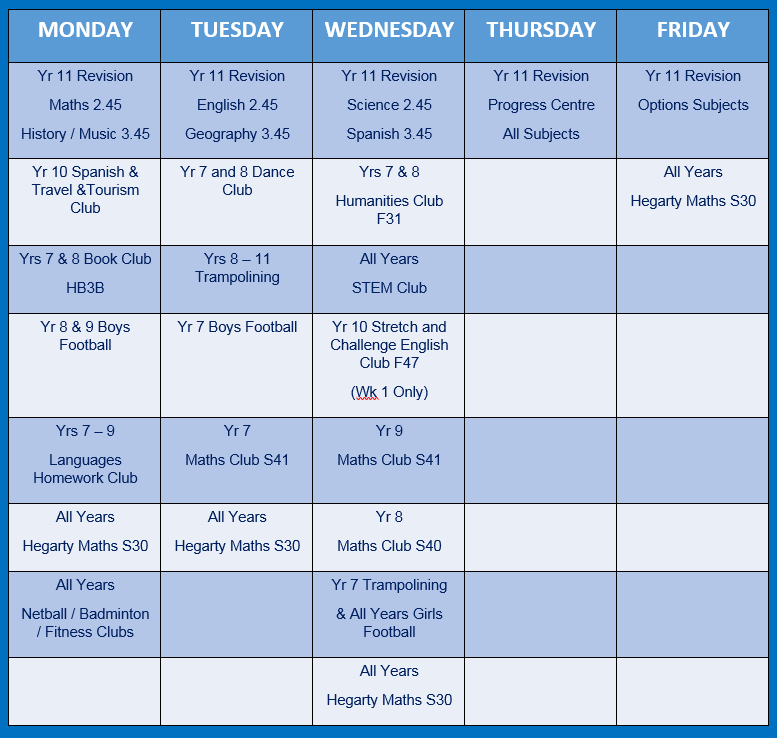 Please see social media for updates to timetables.
 Trips and Visits
·         Ski Trip
·         Poland Trip
·         Geneva Trip
·         Cambridge University Trip
Other trips and visits are available throughout the year, some include visits to universities and sports trips.
Other opportunities
In addition to subject specific opportunities students should aim to be involved in the some of the following enrichment activities to develop their leadership skills and other skills:
·         Participate in the Leadership Award with Miss Catterall
·         Join the school council
·         Take part in the Duke of Edinburgh's Award
·         Participate part in school drama productions
·         Attend High attaining trips and lectures at Universities
·         Be a student ambassador for the college representing a subject at special events e.g. Open Evenings and Parents evenings
·         Summer school for feeder primary schools
·         Visits by experts from different career areas to inspire our students.
·         Peer mentoring