Principal's Welcome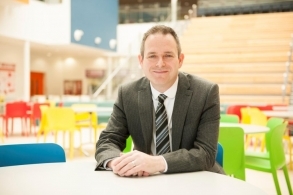 It is with great pride that I welcome you to Halewood Academy.  For me, our vision, "We seek the best" sums up everything we are about.  We are proud of the improvements we have made and of our achievements but we are not complacent and still aspire to be 'the' school of choice for the local and wider community. With over 240 parents choosing us as the school for their child in September 2019 we can see that is already happening.  In 2017, Ofsted judged our school to be a 'GOOD' school.  This reflects all of the efforts staff have made but we aspire to be Outstanding and are working towards that judgement.
Choosing the best school for your child is an extremely important decision. You have to be sure that, in addition to a sound education, your son or daughter will be cared for in a happy and safe environment. On our website we offer you an insight into just some of the opportunities available to your child at Halewood Academy.  The move from Primary to Secondary can be difficult and is a vital time in a child's life. We work hard, in partnership with local primary schools, to make that transition as smooth and successful as possible.
At Halewood, everything that we do is driven by our commitment to provide our students with the highest standards of teaching and learning so that they are able to achieve their full academic potential.  In return we have very high expectations of student behaviour and their commitment to their learning. Halewood staff lead by example and respect, aspiration, collaboration, excellence and resilience are the core values we all share in a partnership with students, parents and carers.
Halewood has outstanding facilities which provide excellent opportunities for students and members of the local community to succeed in a variety of activities. Halewood Academy is a school at the heart of the local community. We have close links with local primary schools, businesses, industry and community groups.
As a school we are very proud of the young people in our care and their academic and personal successes. Halewood Academy provides a friendly, caring, creative and purposeful learning environment. We are delighted to welcome visitors into our school so they can see for themselves the great work taking place here.  If you would like to learn more about the life and work of Halewood Academy, please do not hesitate to contact us.