School Library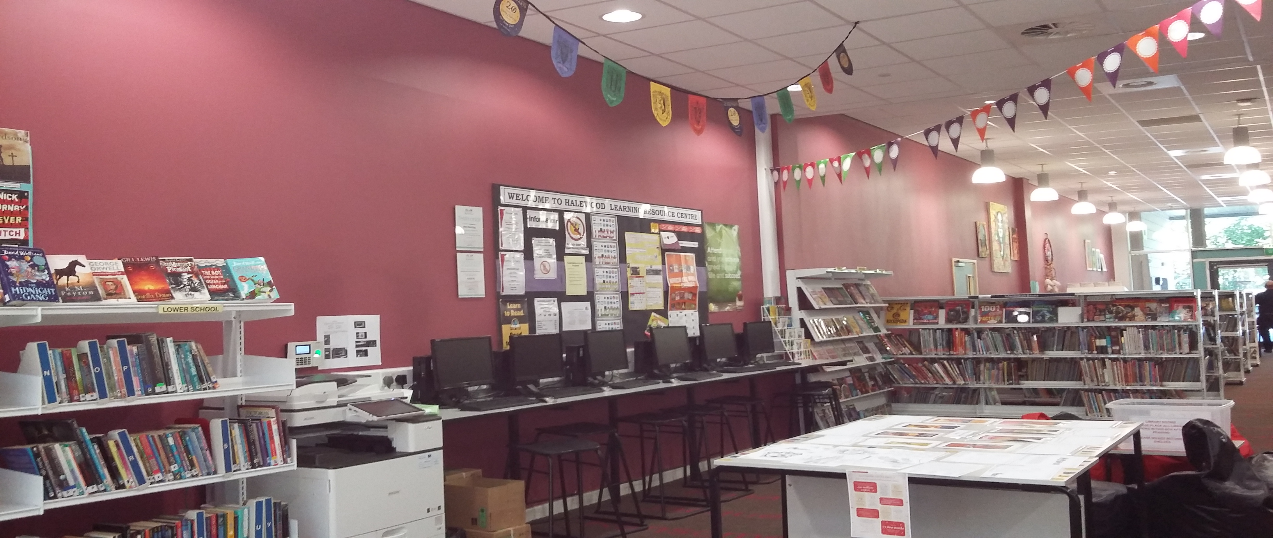 You can read the Library's latest newsletter HERE
Welcome to Our Learning Resource Centre (Library)
Here at Halewood Academy we are constantly working to promote whole school reading for pleasure and a love of books for all. In the LRC, we have a relaxed, calm atmosphere with sofas, beanbags and comfy chairs to provide a place where students can come to read or study. The LRC has been structured to ensure that students feel welcome and supported on every visit. Resources include an array of fiction and non-fiction books to suit all tastes, magazines and Revision Guides- with a designated area for revision. We have 30 computers for students to complete research and homework, with a printer on site. The LRC is regularly well utilised and is an ideal place to complete homework with support on hand and read.
As a result of a Student Voice Survey, it was agreed that students could use their mobile phones (with headphones) whilst in the LRC, if they are sitting reading or working at a computer. This is a privilege, as the LRC is the only area in the Academy where mobile phones are allowed to be used.
HOMEWORK CLUB
The LRC is open for students to use from 8.00am every day, every break time, every lunchtime and afterschool until 4.15pm Monday to Thursday and 4.00pm on Friday.
COMPETITIONS
We are constantly striving to engage as many students as possible from all year groups with events and competitions in the LRC. We recently ran a Christmas Reading Bingo across year 7. Students selected books from a Bingo Sheet and winners received Pride & Promise signatures when they had read 4 books or more and chose prizes from under the LRC Christmas tree. The winners were Autumn Hetherington 7CDE, Natasha Soden-Barton and Paige Cross 7SRT. This is an ongoing competition and will run until the end of the Summer Term. Prizes will have a different focus each half term.
KEY STAGE 3 READING CLUB
Ms Traynor runs a weekly Reading Club, with books provided from the School Library Pack which is donated to the school by Book Trust.
BOOK SELECTION
If there is a book or magazine you would like to see available to read in the LRC or use for Revision, please take a 'LRC READING REQUEST FORM' from the Librarians desk. Complete details and hand it back to the Librarian, who will do her best to try and get it in to stock.
LRC JOBS
We have a team of students from years 7 and 9 that make up the LRC Team. Students are currently working through a Training Programme, take on duties in the LRC and provide assistance to other library users. The Team also helps the Librarian promote the LRC and a love of reading around the Academy.
WORLD BOOK DAY
We celebrate World Book Day every year and try to involve students from all year groups and staff. Last year staff dressed up as a character from their favourite book.
You can read our 2020 World Book Day Newsletter HERE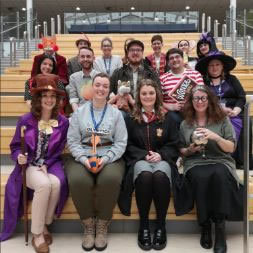 We will shortly be making plans to celebrate World Book Day 2020 in March, which will include 'Caught Read Handed', Staff Storytelling Sessions in the LRC, Drop Everything And Read, quizzes, word searches and competitions all related to books and reading.
A Scholastic Book Fair will also be held in the LRC.
UPCOMING EVENTS
World Book Day 2020
Scholastic Book Fair