Attendance
At Halewood Academy we expect high levels of attendance and punctuality from all of our pupils. We believe that by improving attendance we will -
Ensure more of our pupils have a happy and enriched life experience
Enable pupils to achieve more at school academically, emotionally and socially
Overcome some of the challenges that we continue to face post-pandemic
Help pupils build positive, long lasting friendships and lead happy lives
Improve mental health and wellbeing of pupils and their families
Reduce child exploitation and abuse, anti-social behaviour and knife crime on our streets
Help pupils and families prosper socially and economically
Increase chances of success in further or higher education or apprenticeships
Improve employability of pupils once they leave school
Improve lifestyles and better prepare our pupils for adulthood and the world of work
Attendance and Progress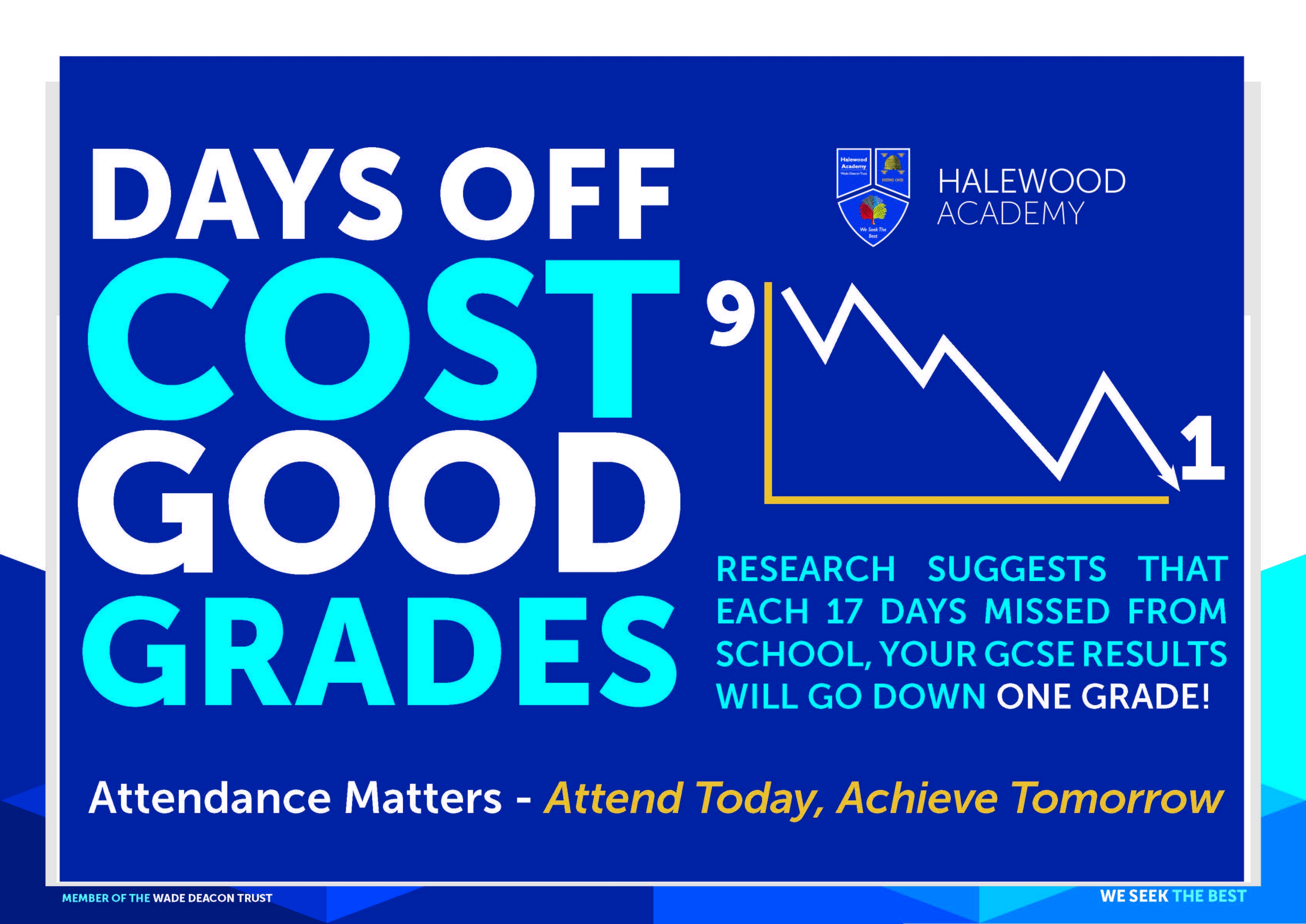 There is a clear link between attendance and progress and as a school we expect all pupils to have excellent attendance. Research has shown that the lower the attendance of a pupil, the lower the GCSE grade at the end of Year 11. ​​​
17 days missed from school can result in one GCSE grade drop. As a result, we have set our school target for attendance at 96% and expect all pupils to achieve this.
Y​ou can read our Attendance Newsletters here
Attendance Matters
If a learner does not attend school, or is not taking part in an approved educational activity, they are classed as ABSENT from school. This means that if your child is off school for any reason, even if they are ill or have medical permission to be off school, they are classed as ABSENT.
100% Attendance = 190 days at school
8 days absence is 96%
12 days absence is 94%
19 days absence is 90%
29 days absence is 85%
38 days absence is 80%
47 days absence is 75%
What can parents/carers do to ensure good attendance?
Ensure your child attends every day, on time, equipped and ready to learn
Ensure school has up to date addresses and telephone numbers
Contact school on the first morning of absence by 8:15am on 0151 477 8830 (option 1) or via email admin@halewoodacademy.co.uk and provide your reason for absence. The main office is open from 8:00am.
Contact the school each day of absence until your child returns to school
If contact is not made for an absence, it is recorded as unauthorised. The school is responsible for deciding if the absence is acceptable or not
Provide medical evidence for any absence exceeding 5 days (10 sessions) or more
Ensure medical appointments are made outside of school time. If this is not possible, your child needs to be in school prior to and after the appointment. We will need medical evidence upon their return
Holiday requests during term time will not be authorised. Parents who take their children out of school for a holiday may be issued with an Education Penalty Notice
Contact school if you are experiencing difficulty in getting your child into school
Work with the school and any other agencies to resolve any difficulties which may affect regular school attendance
Understanding Types of Absences
Every half day absence has to be classified by the school (not by parent/carers) as either authorised or unauthorised. Information about the cause of any absence is always required, preferably in writing.
Authorised
Authorised absences are mornings or afternoons away from school for a good reason such as illness, medical/ dental appointments which unavoidably fall in school time, or emergencies.
Unauthorised
Unauthorised absences are those which the school does not consider reasonable. This type of absence can lead to the Local Authority using sanctions and/or legal proceedings. This includes:
Parents/guardians keeping pupils off unnecessarily.
Truancy before or during the school day.
Absences which have never been properly explained.
Shopping, looking after other children or birthdays.
Day trips and holidays in term time.
Oversleeping.
Absence to look after a sibling who is unwell.
Confusion over term dates.
Any problems with regular attendance are best resolved between school and parents/carers and pupils.
RAG Letters
Each half term your parents will be sent a RAG (Red/Amber/Green) letter informing them of your attendance with advice and guidance where appropriate. The categories are as below;
Red – 93.9% or below - Your child's attendance is a cause for concern and support where appropriate will have been or will be offered by our School Attendance Officer to address this issue.
Amber- 94-95.9% - Your child's attendance is being monitored closely by our Attendance Team and your child's Progress Leader and Assistant Progress Leader.
Green- 96% or above - Your child's attendance is excellent so far this year, we aim for all pupils' attendance to fall into this category. We hope your child is able to maintain this high standard for the rest of this academic year and we would like to take this opportunity to thank you for your ongoing support.
What is Persistent Absence?
Persistent Absence is classed as any absence that equates to over 10% of the academic year at any given time. Any learner who appears on the persistent absence list may be monitored by Knowsley Attendance Services. The thresholds are set out below:
| | |
| --- | --- |
| Close of 1st half-term: | 3.5 days in total |
| Close of 2nd half-term: | 7 days in total |
| Close of 3rd half-term: | 10 days in total |
| Close of 4th half-term: | 12.5 days in total |
| Close of 5th half-term: | 15.5 days in total |
| Close of 6th half-term: | 19 days in total |
Medical Evidence
The school reserves the right to insist on medical evidence in order to code any absence as authorised or unauthorised and this decision will be made on an individual basis depending on your current and historic attendance. If you are asked to provide evidence this does not need to be a letter from your doctor or consultant, and doctors will not usually provide such letters.It can, instead, be appointment cards, prescriptions, or notes of previous consultations (including from the NHS App).
Punctuality
The school day starts promptly at 8:30am. Note that pupils who are not present at lines/registration/assembly by the 8:35am bell will be marked as late. Pupils who are marked as late will receive a detention that will take place on the same day. A message will be sent home informing parents/carers of the late mark and subsequent correction. Where a pupil has a record of lateness to school the detention may be escalated. Pupils who fail to attend an after school late detention will be dealt with in line with the school's Behaviour Policy.
School Support Systems for Promoting Regular Attendance