Exam Information
P2S1 YEAR 11 MOCKS TIMETABLE
The timetable for Year 11 P2S2 Mock Exams can be downloaded by clicking on the image below.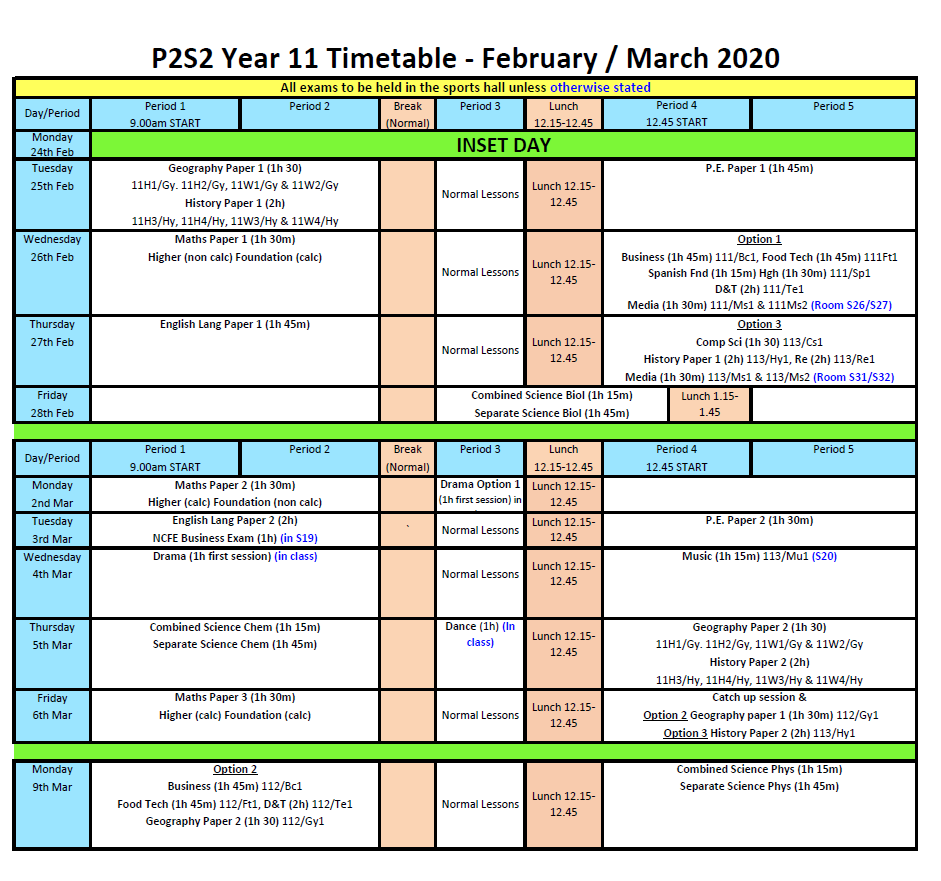 The PROVISIONAL timetable for Summer 2020 GCSE Examinations is below and is available to download HERE - Please note that this is PROVISIONAL and dates and times may change. We advise parents NOT to book any holidays during this period - if a student misses any exams they will not get a mark and, therefore, will not get a grade.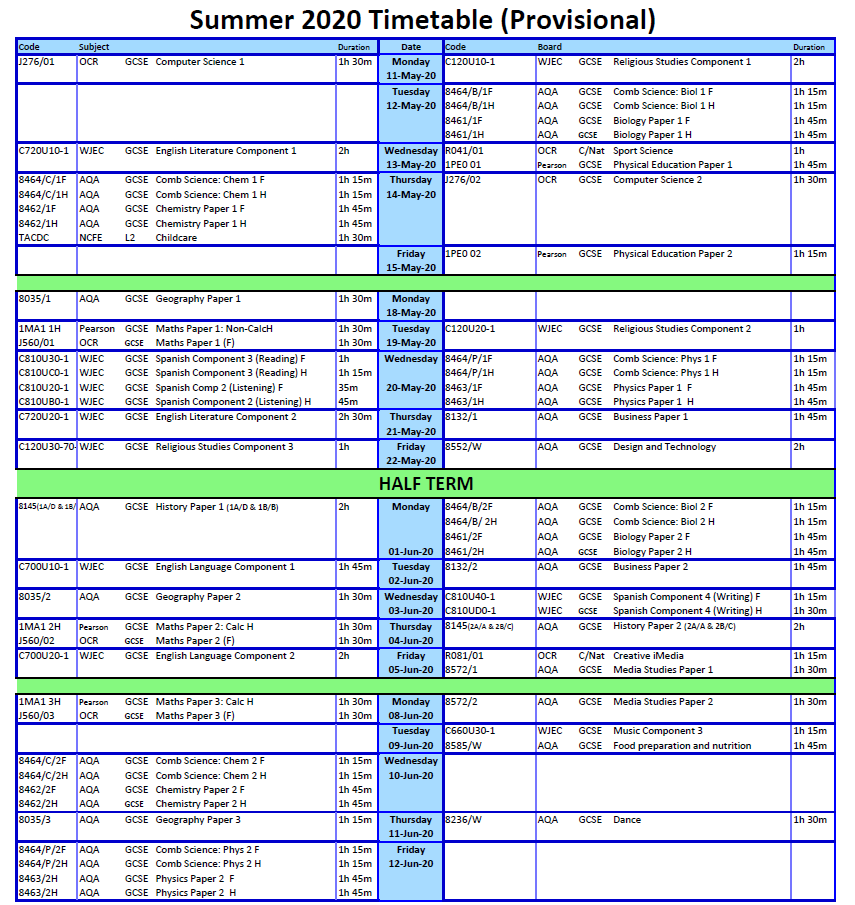 Former students who need confirmation of results or other details can contact Miss Kuhlke by emailing kkuhlke@halewoodacademy.co.uk
Below you will find a list of examinations that the current Year 11 are taking and the exam board for each.
SUBJECT SUBJECT CODE BOARD
ART & DESIGN (SINGLE AWARD) C650QS Eduqas
BUSINESS 8132 AQA
COMPUTER SCIENCE J276 OCR
DANCE 8236 AQA
DESIGN & TECHNOLOGY 8552 AQA
ENGLISH LANG. C700QS WJEC/Eduqas
ENGLISH LIT. C720QS WJEC/Eduqas
FOOD PREP AND NUTRITION 8585 AQA
GEOGRAPHY 8035 AQA
GRAPHIC COMM. C654QS Eduqas
HISTORY 8145/R/C AQA
MATHS 1MA1 EDEXCEL
MATHS J560 OCR
MEDIA STUDIES 8572 AQA
MUSIC C660QS WJEC Eduqas
PE 1PE0 EDEXCEL
PHOTOGRAPHY C656QS WJEC/Eduqas
RE C120P3 WJEC Eduqas
SCIENCE 8464F/H AQA
SCIENCE: BIOLOGY 8461 AQA
SCIENCE: CHEMISTRY 8462 AQA
SCIENCE: PHYSICS 8463 AQA
SPANISH C810P H/F WJEC/EDUQAS
Camb. Nat. Cert in Sport Science J812 (higher) OCR
Camb. Nat. Cert in Creative iMedia J817 OCR
L2 Cert in Business & Enterprise NCFE
L2 Tech Award in Child Devel. and Care CACHE (NCFE)
BTEC Tech Award (Drama  or Dance) ZXD09 Pearson

Important Exam Documentation
Information for Candidates - Non Examination Assessments
Information for Candidates - Written Exams
Information for Candidates - Coursework Assessment
How Exam Boards Use Your Information