Science
Follow us on Instagram @halewood_science/ and on Twitter @HalewoodScience
Our Science curriculum is designed to:
Develop students' understanding of the scientific world through theoretical and practical approaches.
Inspire students and develop their love of learning in by delivering a diverse, engaging and challenging curriculum.
Create a solid foundation of skills and knowledge to encourage all students towards a fulfilling career in STEAM, where applicable.
Deliver an interleaved curriculum, which allows students to cover a diverse range of topics in Key Stage 3 in order to prepare them for their Key Stage 4 studies.
We aim to do this by:
Stimulating an interest in, and enjoyment of, science.
Providing the opportunities and challenge for all to achieve their full potential.
Providing a relevant science curriculum.
Encouraging a culture of questioning and feeding the natural inquisitiveness of students.
Developing an awareness of the social, economic and environmental implications of science that will enable students to contribute positively to society.
Providing the best possible standard of teaching and opportunities for learning.
What do we expect learners to get from studying science?
Students become increasingly independent, building confidence in practical and data handling skills and greater depth of understanding in each topic studied through teaching a spiral curriculum across all year groups.
Students develop an understanding of the relevance of STEM in the wider world and the associated career opportunities regardless of background.
Students develop and understanding of and their responsibility for their health and risk factors associated with unhealthy choices, drink and drugs.
Students achieve economic well-being through academic success and the associated opportunities in STEM careers and further study.
Students make a positive contribution to the learning of others through the development of their team-working and practical skills.
Engaging and stimulating lessons lead to students enjoying lessons and making accelerated progress.
Overview of the Year 7 – 11 curriculum (click on table to enlarge)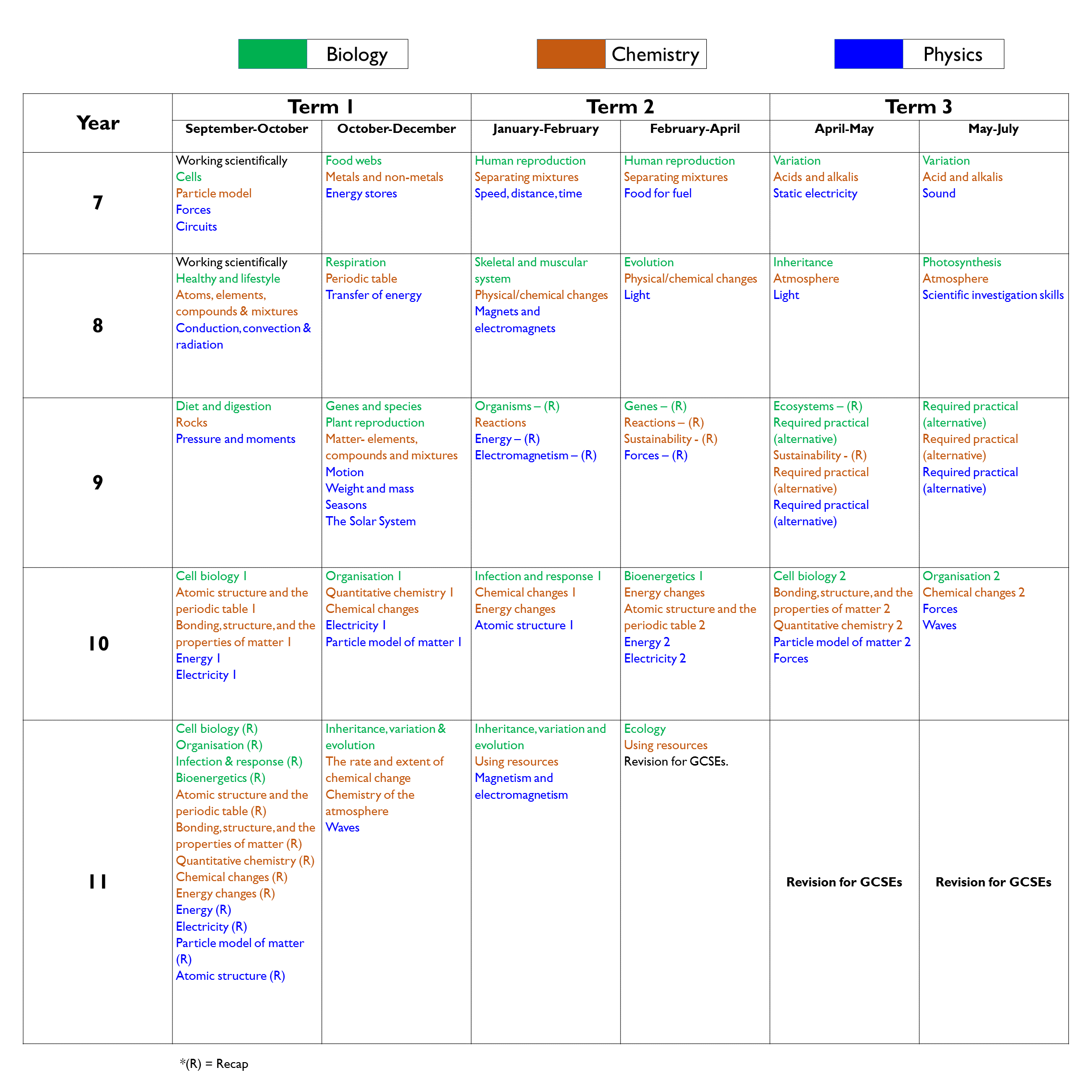 Full Science teaching calendar
Programme of Study/Specifications
The Key stage 3 (years 7-9) Programme of study.
Science programmes of study: key stage 3
The GCSE (years 10 & 11) specifications:
Revision/resources
Revision guides are available from Mrs Eccles. £10 for Combined Science and £12 for Separate Science (x1 biology book, x1 chemistry book, x1 physics book). See your science teacher for more information.
Here is a list of useful revision websites, just click on the bold section to take you to the website:
Past Papers
Click on the links to download AQA Past Papers for revision